Auto Buying Tips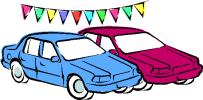 New Car Buying Checklist
Check publications at your local library or bookstore, or on the Internet, that discuss new car features and prices. There are numerous sources which provide information on dealer's costs for specific models and options. An excellent source for car safety information is Safercar.gov.


Shop around to get the best possible price by comparing models and prices in ads and at dealer showrooms. You also may want to compare by contacting car-buying services and broker-buying services.


Negotiate the price. Dealers may be willing to bargain on their profit margin. This is the difference between the manufacturer's suggested retail price (MSRP) and the invoice price. Always know the invoice price before going to the dealer.


Consider ordering your new car if you don't see what you want on the dealer's lot. This may involve a delay, but cars on the lot may have options you don't want — and that can raise the price. However, dealers often want to sell their current inventory quickly, so you may be able to negotiate a good deal if an in-stock car meets your needs.


Avoid costly extras such as dealer add-ons and extended warranties. Be sure you review the contract and look especially close for anything written in small print.


Buy a "low-profile" car. Cars that are expensive to repair or that have a high theft rate generally have higher insurance costs.


Shop for a loan prior to going to the dealership. Use this information to assist you in the negotiations. He who has the most knowledge has the most power!


Be wary of low-rate promotional deals. 0% financing sounds great, but unfortunately, unless your credit score is over 700 you'll likely never receive it. Once the dealer has you in the showroom, you most often will be offered a higher rate.


Selling your old car outright usually is better than trading it in.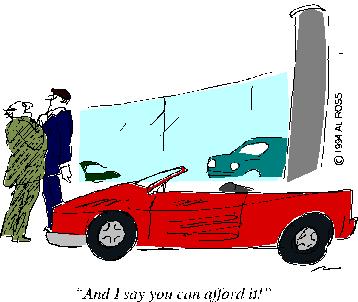 Used Car Buying Checklist
Be a smart consumer.


Determine your needs and wants first, make a list, and prioritize.


Establish a budget and determine the class of vehicles that fit it.


Narrow your selection by makes and models and learn all you can about them.


Research dealerships and sellers.



Know the fair market value (

Blue Book

) and vehicle history of any vehicle you're considering.

Obtain Vehicle Identification Numbers (VINs) and research cars online; obtain vehicle history reports.


Take test drives and have cars checked by a mechanic. Many dealers now offer CarFax reports.


ASK QUESTIONS, and consider all loan options.


If you feel hesitant, walk away - there's always another deal.


Selling your old car outright usually is better than trading it in.


Drop collision and/or comprehensive coverages on older cars. If you own a car that's worth less than $2,000, you'll probably pay more for the coverage than you would ever collect on a claim.